Software and Solutions for Understanding Product Reliability and Maintainability
ReliaSoft software applications provide a powerful range of solutions to facilitate a comprehensive set of reliability engineering modelling and analysis techniques. ReliaSoft products help to:
Drive reliability improvement by design, both qualitatively and quantitatively, while infusing Design for Reliability (DFR) activities with relevant information that can be used for next-generation products.
Use data-driven analysis to address today's demanding performance specifications, while capturing enterprise-wide knowledge within a self-improving, closed-loop system.
Quickly discover design and process flaws before release to manufacturing while evaluating and improving design margins to reduce development time and cost.
Accurately estimate system availabilities and maintenance schedules from field and test data to reduce field failures and system downtimes.
Forecast the system and component failures, estimate returns to reduce costs through better warranty modelling and spare part inventory management.
Determine the reliability and availability of the system, resulting in reduced operating costs and minimised unscheduled downtime.
Use advanced statistical methods to support management in financial decision planning.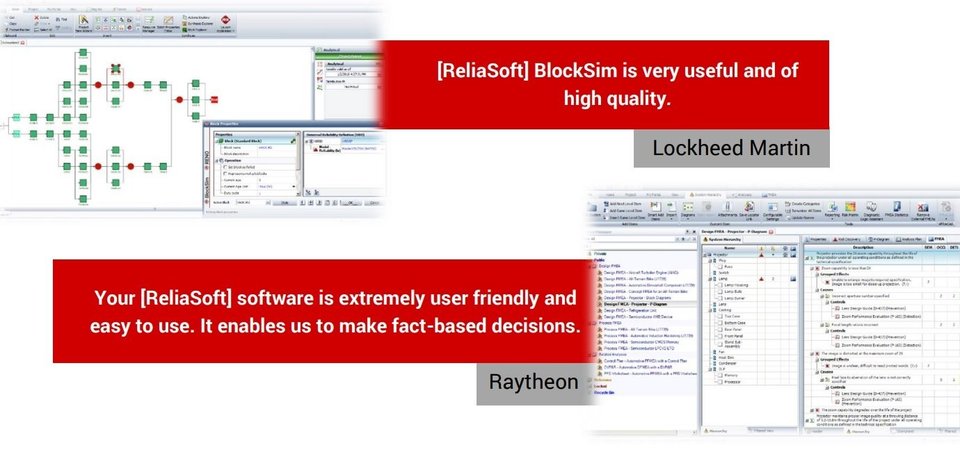 Our Reliability Analysis products help to:
Significantly reduce test time required to obtain reliability metrics for a product, which can result in faster time-to-market, lower product development costs and improved designs.
Design accelerated tests that will be the most effective to achieve desired objectives.
Predict performance during the useful life (or warranty) period.
Use simulation to obtain estimated performance metrics that can facilitate decision making in a variety of areas, such as scheduling planned maintenance, planning for spares, identifying bottlenecks in production throughput and estimating life cycle costs.
Calculate optimum overhaul times and other results for fielded repairable systems.
Compare suppliers or designs based on reliability.
Demonstrate that an item meets a specified reliability